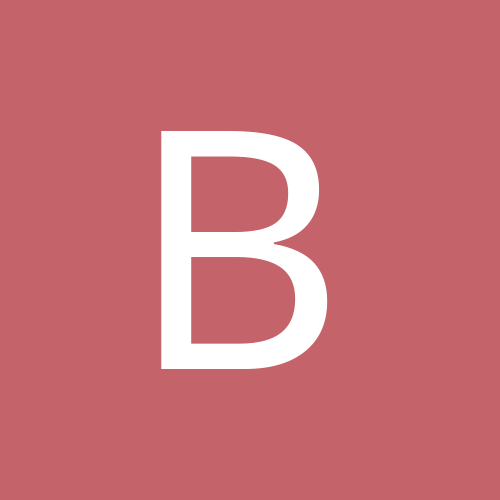 BSon2or4
Supporting Members
Content Count

198

Joined

Last visited
Community Reputation
1
Neutral
About BSon2or4
Rank

Working on something for someone


Birthday

06/23/1974
Profile Information
Gender
Location
Interests

Interested in a bit of everything, but to be more specific I love metalworking, tinkering, building the better mousetrap type of things. I like being able to say, "Yeah, I built that.", but will rarely step up to admit it if asked. I like riding, dirt, street, 2 wheels, 4 wheels, caged or open. I enjoy my family time with my wife and in-laws. But this is just the tip of a very large iceberg...
Won't be able to make it, dental appointment. Have fun everybody.

I may end up stopping by in between service calls.

What type of camper are you looking for, I might know a person?

I just rode past there on Sunday for my clutch break-in ride... Fresh Rekluse, non-auto. From the number of bikes out front it looked like it was already open, but I'm game for a Grand Opening ride, should be fun.

I used to run the GlassWeld 2000 system at the shop, but the frequency of repairs grew so few that now they just call out Safelite as all of the resin expired. Procedure was to create a bull's eye in front of the crack and repair that to stop the run but if you can feel the crack you have to seal the crack first. Always a challenge.

Agreed. It's always better for a logo to be more than just words.

On the calendar with the usual plus one. See y'all there.

Any "Berto's", should have you covered, Umberto's, Roberto's, Aliberto's, Hiberto's, you get the idea. They're everywhere, well at least they are up here in Escondido. In Escondido there's no shortage of Mexican food eateries, I've got at least 3 within a 2 minute walk from my house. I will however say if you're looking for good donuts in the CV area Sunny's Donuts off of H are good. I use to commute from Julian down to CV every day for work 19+ years ago and stopped in there every day. There should be a Berto's in that same area, but from a quick search the one with the high stars is at 444 Broadway, 271 reviews with an overall of 3.5 stars can't be that bad as my favorite in Escondido, Cocina Del Charro is in the same ratings level. Hope this helps.

Enrolled, but the spouse will have to at the class as she doesn't have an e-mail.

My wife and I plan to be in attendance, so that would be a 2 count. After some of those we've assisted back at camp after the ride a refresher would be good.

Interested if scheduling allows. My wife always got hers through the PD when she was working. She said her classes would normally cost her $65, so $15 is a steal of a deal with cert., especially if it includes AED.

Officially on the calendar. We'll be there.

Sounds like a plan. Tuesday or Thursday next week works for me, with the usual +1.

Being in Escondido I experience more cars as opposed to motorcycles, but there is a serious problem with street racing in Escondido. A ton of import tuners and muscle car enthusiasts with the occasional bike note coming through. I can hear both the 78, the 15 , and El Norte Parkway from my house, all of which have had fatality accidents from street racing. I personally like the regulation and understand the door it opens. It doesn't effect me as all of my vehicles are stock and won't produce that level of note as such. Unlike the mustang that passed me doing in excess of 80 on the South 15 freeway the other night that I could still hear but not see 5 minutes later. Bags, as for the dogs, check the local CC&R's if you live in an association type of community or local noise and animal control ordinances if you don't. I've had a friend lose his dogs legally for barking complaints, so it is possible, I just don't know the whole back story that led up to it.