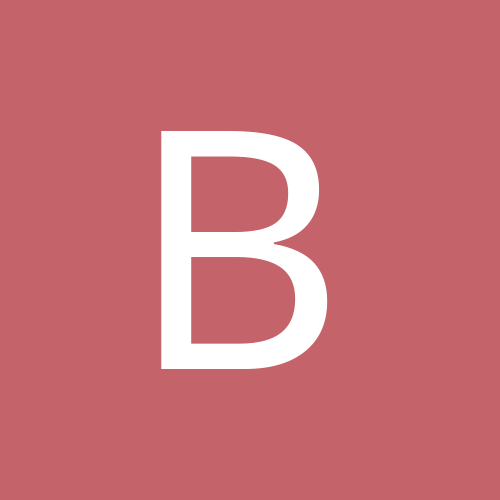 BSon2or4
Supporting Members
Content Count

193

Joined

Last visited
Community Reputation
1
Neutral
About BSon2or4
Rank

Working on something for someone


Birthday

06/23/1974
Profile Information
Gender
Location
Interests

Interested in a bit of everything, but to be more specific I love metalworking, tinkering, building the better mousetrap type of things. I like being able to say, "Yeah, I built that.", but will rarely step up to admit it if asked. I like riding, dirt, street, 2 wheels, 4 wheels, caged or open. I enjoy my family time with my wife and in-laws. But this is just the tip of a very large iceberg...
I used to run the GlassWeld 2000 system at the shop, but the frequency of repairs grew so few that now they just call out Safelite as all of the resin expired. Procedure was to create a bull's eye in front of the crack and repair that to stop the run but if you can feel the crack you have to seal the crack first. Always a challenge.

Agreed. It's always better for a logo to be more than just words.

On the calendar with the usual plus one. See y'all there.

Any "Berto's", should have you covered, Umberto's, Roberto's, Aliberto's, Hiberto's, you get the idea. They're everywhere, well at least they are up here in Escondido. In Escondido there's no shortage of Mexican food eateries, I've got at least 3 within a 2 minute walk from my house. I will however say if you're looking for good donuts in the CV area Sunny's Donuts off of H are good. I use to commute from Julian down to CV every day for work 19+ years ago and stopped in there every day. There should be a Berto's in that same area, but from a quick search the one with the high stars is at 444 Broadway, 271 reviews with an overall of 3.5 stars can't be that bad as my favorite in Escondido, Cocina Del Charro is in the same ratings level. Hope this helps.

Enrolled, but the spouse will have to at the class as she doesn't have an e-mail.

My wife and I plan to be in attendance, so that would be a 2 count. After some of those we've assisted back at camp after the ride a refresher would be good.

Interested if scheduling allows. My wife always got hers through the PD when she was working. She said her classes would normally cost her $65, so $15 is a steal of a deal with cert., especially if it includes AED.

Officially on the calendar. We'll be there.

Sounds like a plan. Tuesday or Thursday next week works for me, with the usual +1.

Being in Escondido I experience more cars as opposed to motorcycles, but there is a serious problem with street racing in Escondido. A ton of import tuners and muscle car enthusiasts with the occasional bike note coming through. I can hear both the 78, the 15 , and El Norte Parkway from my house, all of which have had fatality accidents from street racing. I personally like the regulation and understand the door it opens. It doesn't effect me as all of my vehicles are stock and won't produce that level of note as such. Unlike the mustang that passed me doing in excess of 80 on the South 15 freeway the other night that I could still hear but not see 5 minutes later. Bags, as for the dogs, check the local CC&R's if you live in an association type of community or local noise and animal control ordinances if you don't. I've had a friend lose his dogs legally for barking complaints, so it is possible, I just don't know the whole back story that led up to it.

Welcome everybody to 2019 in California, and all of the new laws. Trying to stay legal and out of trouble I was doing my research for all of the new laws that came into effect as of the beginning of the year and ran across a couple of rant videos on Youtube about a new noise compliance law for vehicles that included motorcycles. It would appear that the state has, in an effort to crack down on street racing, passed a law limiting the noise level of on road motor vehicles to 95 db, getting rid of the fix it ticket warning system and paving the way for a $1,000.00 fine, and here's the kicker, a mandatory visit to a Bureau of Automotive Repair Referee for a compliance inspection where they can go through your vehicle with a microscope looking for non-C.A.R.B. compliant parts to enforce compliance. I haven't looked up all of the details as I wasn't looking up those law changes in particular but felt compelled to share this with the group as a means of allowing everybody to get ahead of it. Sounds like another ill conceived means to an unachievable end to me, but then again this is California so it wasn't really shocking. Let the games begin!

Yep, its a well nut, they also get used as a holding tank sensor in some motorhomes, a solar panel anchor on motorhomes, a storage compartment drain plug, and just about anywhere you need an expanding rubber plug type of mount. I've probably got around 20 of them left over from the last solar install I did. The ones that I have are probably not the right dimensions or thread size though.

Failure is essential in everything. To not want to fail is expected but with failure there's the opportunity to learn. I consider myself a no talent rider but like most of my life I've been willing to take the punishment that I'm dealt for the things that I do and accept the opportunity to learn from it. Education is essential to improvement and improvement is necessary to further your skills. There is no need to fear what is unknown, simply accept the challenge to make it known to you and possibly find your limits. Asking for help is not something to be embarrassed about. Riding with a buddy is asking for help that you might not need but enjoying the company of that buddy in the meantime. If I'm sounding a bit too philosophical I apologize, 48 hours of work and 4 hours of sleep turns down the squelch sometimes. Focus, focus... Deep sand is definitely an education, as are most of the areas around it as well. My bike likes it so much that it loves taking naps in it, but I love my bike so much that I indulge it in such love. The whole point is to come away at the end of the day with a smile on my face no matter where or how big the bruises are. The day I don't have a smile on my face when I turn the key off will probably be the day that I don't turn the key back on. A bit stoic but true.

It all really depends on how fast you want to go versus how many times you want to pick up your bike while taking in to account how much punishment you can endure. That's just my take on the area though as I grew up on the other side of the hill by Lake Cuyamaca.

A little JB weld and it'll be fine...