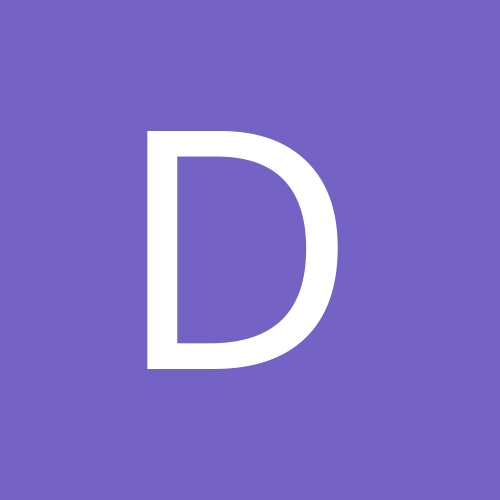 Content Count

482

Joined

Last visited
Community Reputation
91
Excellent
Recent Profile Visitors
The recent visitors block is disabled and is not being shown to other users.
Have him pm me, welding that during a tech day would be hard but I can take care of it easy enough with the tig any other time, he doesn't have to wait

Bumping this as general reminder

1

While I cant help out on the tech department I am always happy to host tech or get together days at my place and we have used that as a means of raising donations for the site as well. All work that is provided by myself and others is done free of charge with the expectation that a donation that the person feels is suitable for the work done be made to the site. That said I will be happy to host such a day in Oct if we get word out and people understand its not just a tech day but also a psudo SDAR meeting and such. We have been talking about this for a couple of months but nothing has materialized (by BBQ I mean Ill cook hotdogs ) Also I think if you were to send out a separate email to all of the members explaining the situation and solicit a donation (Include the details of how to in the email) you might find a lot of people would step up. I would since for me the donate button here has been very sketchy for me in the past.

if you install bark busters Rotweiler performance has a very NICE set of mirrors that would be perfect for what you want. Check them out. They are the swivel away ones.

Well stupid should hurt, even if only in the wallet 😂

Going to have it on Saturday the 23rd. we will have dogs on the grill and plenty of outside seating. Per the usual, I can host and have pretty much all tools necessary to do the typical maint work on most bikes. This is an oil change kind of day, not ride over and tear apart the head of you bike kind of day. Unless your @Zubb then we spend 5 hours replacing a broken frame bolt in your 1150 and give you grief the entire time. We had to bring in our resident German engineer to complete the extraction. Good times for us, not sure sure for Zubb 😉 That said, plenty of parking and space for bikes. There is a manual tire changing machine but you take your old tires home with you. Tig welder is also here so if you need a skid plate welded up etc, that can be discussed time dependent. Oil I can dispose of easy enough. There are 4 dealers close by (all the major brands including BMW) and the cycle gear is here too. location 925 Chardonney Way Escondido

The was someone on this site that had a stelvio, I have a number of consumables for the bike. Full gasket set for the valve covers. K@N Air Filter ASV Levers (what a huge improvement over stock) Extra brand new wind screen and bunch of other stuff Please PM me if your interested, I am not looking to make bank on any of it but if there is stuff that can be used you can pick and choose, that will dictate pricing.

$200 6 pack of random micro brew ride on 1290 final offer

On my ktm 990 having the ABS offroad was a death sentence you could not stop AT ALL. The new stuff maybe better suited to off road since I dont have one to ride off road cant comment on real world experience beyond what happened to me on the 990 back in the day.

A company I think called delkevic out of the UK. Been pretty good for 6K miles so far Welcome to stop by and hear it in person if you want.

so you are still running the stock valving? What do you weigh. Mine is sprung and valved for 220lb rider, your welcome to come down and try them back to back and see if the valving might be something you want to do in the future.

damn that thing is clean, what did you do to the suspension?

Better than a hot spoon to the eye I guess..

If you dont mind the trip, sure bring them over maybe you can consume one of these many beers I seem to have acquired over the last couple of months, that I will never drink.